Transform your outside space
In Australia, indoor-outdoor living is part of our DNA. Our gardens, courtyards, verandas and balconies are natural extensions of our living spaces – somewhere to barbeque, entertain, and watch the summer storms roll in.
But the way we live outside is changing. Where a simple table and chairs once sufficed, Australians are now seriously upping their outdoor décor game, creating Instagram-worthy 'outdoor rooms' that function as another beautifully styled part of the home.
These outdoor rooms are a runaway design trend, and there's an endless thirst for outdoor decor ideas, from outdoor rugs to outdoor cushions to outdoor blankets. After all, it's not enough to buy nice outdoor furniture; you also need colour, softness and texture to make people feel at home, as well as some great outdoor accessories.
Outdoor fabrics that are stylish, soft, and truly hard-wearing
The outdoor decor products you use must be fit for purpose. The Australian climate is hard on fabrics, and you just can't bring your indoor cushions and rugs outside and expect anything but disaster. Which is where we come in.
Weaver Green products are the epitome of stylish indoor-outdoor living. Because our wool, cotton, and linen-feel fabrics are hand woven from recycled plastic, all of our textiles can be used outdoors as well as inside, and are water resistant, stain resistant, mould and bug resistant. They're machine washable, or in the case of rugs that are too big to fit in the machine, easily washed with soap and water. They're even eco-friendly!
It doesn't have to be expensive or complicated to upgrade your outdoor space. You can dramatically transform this much-loved part of your home with a few well-chosen textiles and outdoor accessories. Here are some outdoor decor ideas to get you started.
Outdoor Rugs: It's all about that Base
Just as inside the home, a floor rug is the crucial base for an outside 'room'. Soft underfoot and creating a defined space, outdoor rugs make an airy, outdoor area feel like part of the home. When you're choosing your rug size, the same rule applies as for an indoor rug– go BIG.
1. Nomad Tarifa Outdoor Rug
When it comes to outdoor rugs, it's hard to go past the Nomad Tarifa. This gorgeous floor rug, with its pale yellow, blush pink, and dove grey tones, creates the perfect base on which to layer your other outdoor cushions and textiles, without crowding them out. It matches a multitude of materials and colours, from wicker to teak to dark-stained floorboards, and adds an upliKing, yet understated splash of colour to your space. You will get comments on this rug, we guarantee it.
2. Kasbah Smoke Outdoor Rug
One of our best-selling rugs, the Kasbah Smoke is pure class. In a pale smoky grey and a white geometric pattern with hints of the Kasbah, this is your chameleon rug which matches nearly all colour schemes and décor styles. The Kasbah smoke rug looks effortlessly at home against white weatherboards and white upholstery, but also acts as a fabulous contrast with dark charcoals and blacks.
3. Andalucia Paloma Outdoor Rug
With its thick plaited tassels and gorgeous geometric design in pale green and yellow, the Andalucia Paloma brings a little Spanish sunshine into your home. The minty green will fit in nicely with any plant life, while the white and yellowy creamy tones will work stunningly with whites and natural materials such as cane and teak.
4. Nomad Patara Outdoor Rug
Colours and patterns get bolder in the Nomad Patara rug, a flat-woven kilim rug which provides a deep, rich addition to your outdoor space. Earthy reds and rusty tones create a visual impact in this Middle-Eastern inspired tapestry rug, creating a space full of personality and warmth. Go bold.
5. Kasbah Ink Outdoor Rug
It's hard to go wrong with blue in an Australian garden setting, and particularly when it's the rich, sophisticated blue of the Kasbah Ink floor rug. This is exactly the kind of outdoor rug that makes you want to set up camp in the garden and never, ever leave.
Mix and Match those Outdoor Throw Cushions
It's time to get rid of those slippery, uncomfortable, vinyl-like outdoor cushions. Outdoor textiles have a long overdue upgrade! Weaver Green's outdoor throw cushions come in a stunning array of colours and patterns, as well as in 3 styles; wool, cotton or linen.
Some of our favourite outdoor pillows for jazzing up your outdoor setting include the Juno, Antibes, Andalucia, Nomad, Kalkan, Medina, and Kas ranges. For visual impact, mix and match to your heart's delight.
Outdoor Throw Rugs to Snuggle Under
You'll also want some some throw rugs to match (or stylishly mismatch) the cushion choice on your outdoor seating. Something light like the Cassis is the perfect wrap on a spring or autumn night, while for those cold winter nights you'll want one of our heavier, warmer outdoor blankets, such as the Navy Herringbone throw rug.
Read more: Our 5 Best Winter Blankets
The Mighty Pouf: Outdoor Footstools
This one is for those of you that really want to raise your outdoor decor game, as footstools create a sense of a living room, rather than just an outdoor couch setting. Lie back on the couch, put your feet up on the stool, and relax. As an added bonus, these gorgeous outdoor poufs are firm enough that they can also serve as an extra seat when you're entertaining.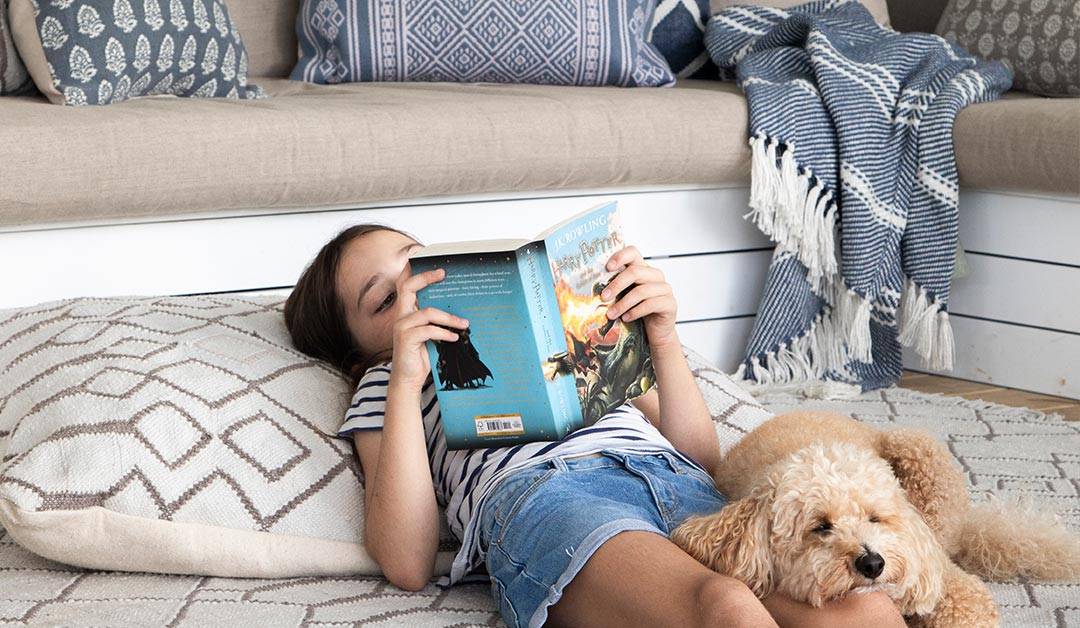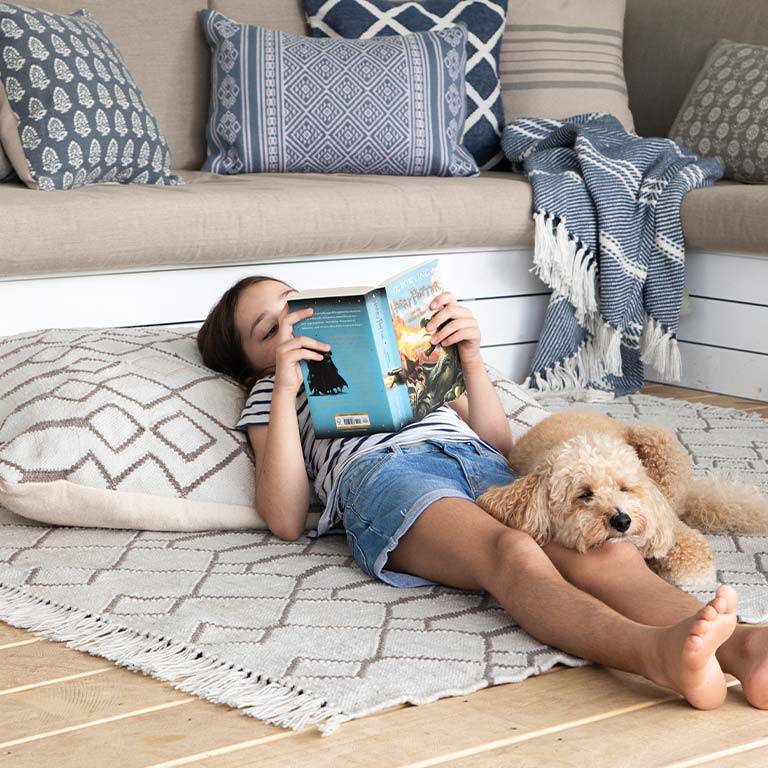 Fight-over-them Floor Pillows
These giant, utterly irresistible floor cushions will be fought over in your outdoor living zone – whether it's by the Tik-Tok scrolling teenagr or the family dog. As for favourites, wherever do we start? The Juno Teal or Gooseberry for happy pops of colour, the Andalucia Zahara for its indisputable cool factor, or the Nomad Taurus for its bold Middle Eastern vibe. Match it with the footstool for added impact.
Bring Provence to your Table: Outdoor Table Decor
Add a bit of French provincial elegance to your outdoor table decor when entertaining, with our stunning range of outdoor tablecloths and napkins in the French linen range. Each of these tablecloths has the look and feel of French linen, soft and lightweight. Yet, unlike real French linen, these beauFes are stain-resistant and extremely hard-wearing, making them the ultimate outdoor tablecloth. Pair them with matching napkins (and the outdoor cushions in the Antibes Linen range), and you've got yourself a French country garden setting to die for.
Let the Outdoor Makeover Begin!
At Weaver Green Australia, we firmly believe that an outdoor setting should be just as beautiful, just as comfortable, and just as luxurious as the soft furnishings and textiles we use inside. Instantly transform an often-boring, underused outdoor space into a welcoming area that you'll want to show off to friends and family.