Transform your outdoors
An outdoor rug is a perfect accessory for enjoying long summer days in the garden, at the beach or on a campsite. Offering a dry, comfortable place to spread out and socialise, our recycled plastic outdoor rugs take picnics and alfresco dining to a whole new level.
All of our rugs are water, stain and moth larvae resistant making them perfect for life outside. We use non-toxic dyes and our colours are UV stable, giving them extra protection against the sun's rays. Because our outdoor rugs are so easy to clean, they'll last for years to come.
Naturally waterproof outdoor rugs
All of our beautiful indoor outdoor rugs and runners are naturally waterproof thanks to their amazing eco credentials. Made entirely from recycled plastic bottles, our rugs have all the softness of wool combined with the practicalities of plastic. A game-changing alternative to traditional plastic outdoor rugs, our collection includes a stunning choice of colours and designs that all hard-wearing, easy to clean and low maintenance.
Warm and cosy underfoot, our waterproof outdoor rugs are perfect for styling outdoor dining areas. Use one under your garden table and chairs, or spread an outdoor rug on the on the lawn with a handful of our beautiful outdoor cushions for the perfect spot to soak up the sun.
100% recycled plastic

Our rugs are made entirely from disused plastic bottles.

Practical & versatile

Featuring tight weaves designed for extra wear and durability.

Resistant to critters

Unlike wool, our outdoor rugs won't attract moth larvae or dust mites.

Easy clean

Our outdoor rugs are naturally stain-resistant.

Freshen up quick

All of our outdoor rugs are machine washable at 30-40 degrees.
Shop by colour
If you're not sure where to start, narrow down the options by browsing some of our most popular colours. From the brilliantly bold to soft muted tones, our outdoor rugs come in the full spectrum of colours. Our colourful outdoor rugs are hand-woven using our wonderful soft recycled plastic yarn and non-toxic dyes.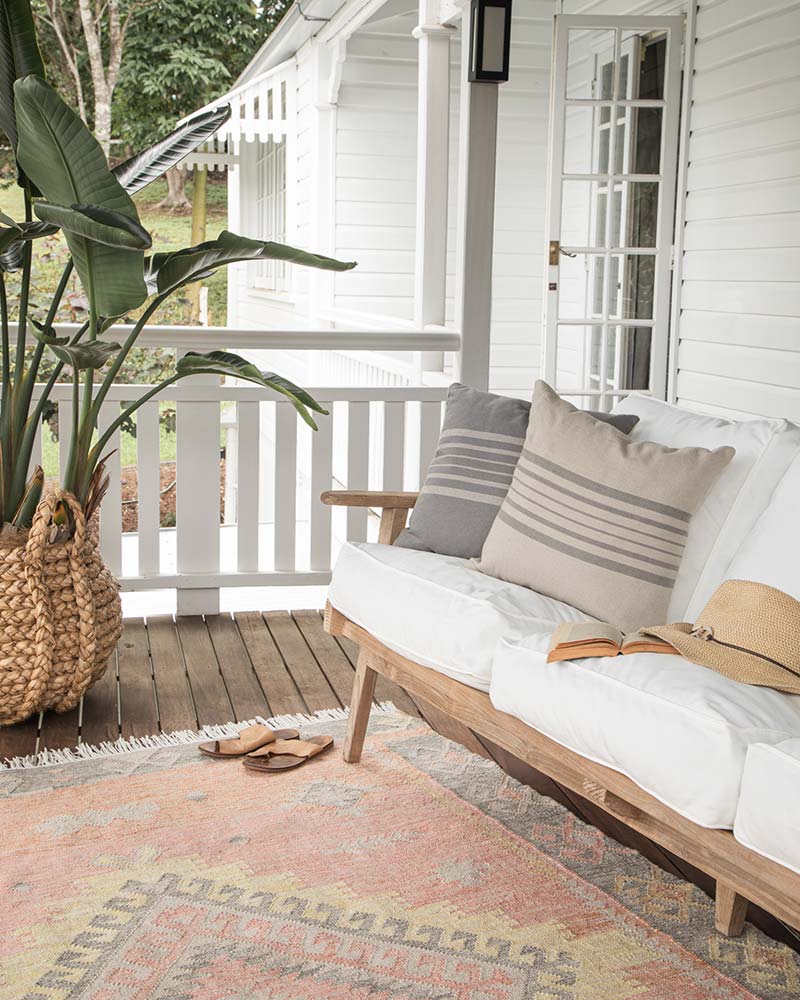 The story behind our amazing outdoor rugs
Our fabulous outdoor rugs and handwoven textiles were inspired by a rudimentary fishing rope we discovered whilst travelling in Asia many moons ago. Made entirely from recycled plastic bottles, the rope was both strong and water resistant.
Inspired and determined to make a difference, we returned to the UK and spent a number of years perfecting the process of turning old plastic bottles into beautiful, soft yarns that offered all the characteristics of wool alongside the practicality of plastic.
Stain-resistant and incredibly easy to clean, we turned our recycled yarn into gorgeous outdoor rugs and accessories that have been brightening up gardens, patios and balconies ever since. 
Our story