Going out in style
Make your outside spaces every bit as comfortable as inside with our fabulous range of outdoor cushions.
Designed to look and feel just like natural fabric, our beautiful cushions are instead made entirely from recycled plastic bottles (including the cushion inner!). That means they won't stain, they're water resistant and completely uninteresting to things like moth larvae, who just love dining out on real wool textiles.
Perfect for alfresco living, our beautiful outdoor cushions are quick drying, have machine washable covers and are UV stable, meaning the colours won't fade. Use them for picnics and camping or on outdoor seats, benches, patio chairs and sofas for some extra style, comfort and practicality in your outside spaces.
Made from plastic bottles

Highly practical & versatile

Resistant to moths & critters

Colours that are designed to last

Freshen up in the machine
Classic cushion collections
Keep it simple with our core range of classic outdoor cushion designs. Soft, durable and available in a fabulous range of colours, these practical everyday outdoor cushions are perfect for mix and matching.
Boho outdoor cushions
Create beautiful spaces with our bohemian outdoor cushions. Inspired by textile design from around the world, these vibrant, colourful cushions are perfect for adding some intrigue to your outside spaces.
Striped outdoor cushions
Line up summer with this fabulous collection of striped outdoor cushions. Available in a gorgeous range of colours including coral, navy blue, grey, teal and the yellow tones of gooseberry. Perfect for brightening up patios, terraces and balconies, these brilliant cushions are great for adding comfort and a pop of colour to your outdoor furniture.
Geometric outdoor cushions
Featuring geometric designs in a range of styles, these brilliant cushions are perfect for bringing outdoor furniture life. Available in a great choice of colours and differing patterns, our geometric outdoor cushions pair beautifully with our matching outdoor blankets.
Outdoor floor cushions
Spread out in style and bask in the summer sun with these brilliant oversized outdoor floor cushions. Available in a range of designs, they're every bit as practical and comfortable as their smaller counterparts and perfect for outdoor living. Pet owners be warned, you may need to share!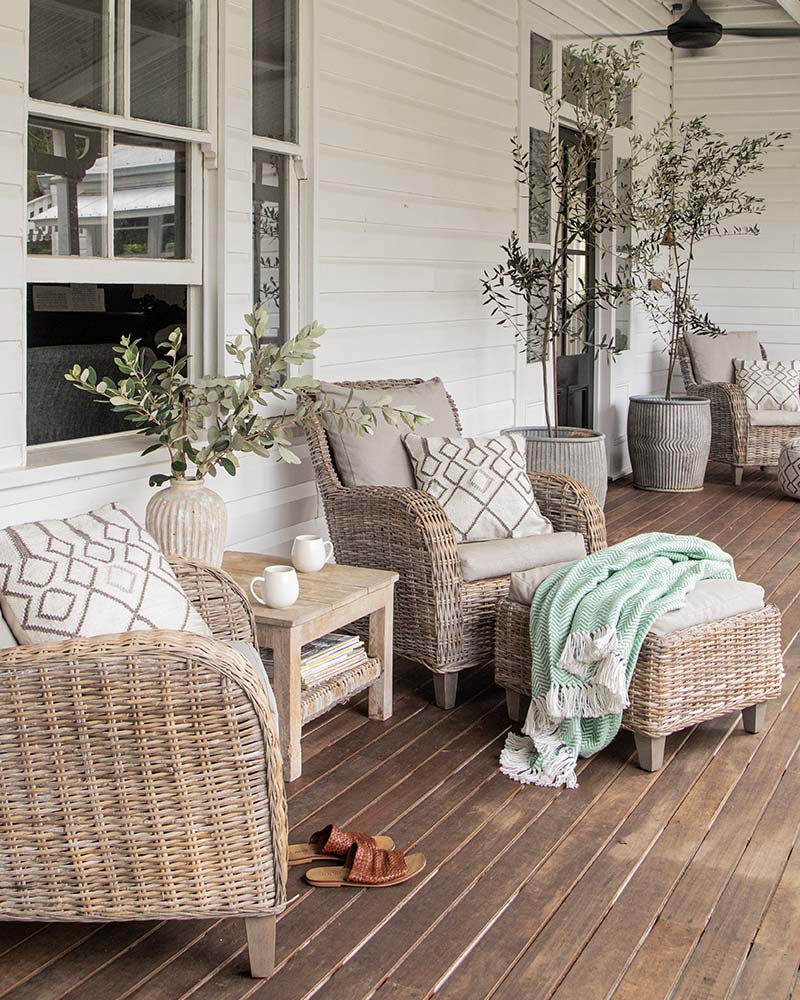 The story behind our amazing outdoor cushions
Our beautiful woven textiles were inspired by a rudimentary fishing rope we stumbled upon whilst travelling in Asia many years ago. Made entirely from recycled plastic bottles, the rope was strong, weather resistant and a great way of using up some of the millions of plastic bottles that are dumped in rivers and oceans every year.
We perfected the process of using discarded plastic bottles to make soft, practical yarns that look and feel just like wool but are resistant to stains, water and things like moths and dust mites. Incredibly easy to clean, our gorgeous products lend themselves perfectly to life outdoors meaning fabulous colours and style aren't limited to inside the home. 
Our story