How to Hamptons Style your home
The Hamptons style originate from the laid-back yet opulent homes of the New Hamptons area of New York State, where the city's elite escape the pollution and frantic pace of the New York to relax and unwind in this coastal oasis.
With our love of all things laid-back the style has really taken off here in Australia. With a move towards more sophistication in our homes and outdoor spaces,  and an increased interest in styling them to perfection, Hamptons style homes are here to stay.

To do Hamptons right, your home should feel like an elegant, luxurious escape, where you can completely relax, both indoors and out. Yet the Hamptons style is actually quite flexible, and with the addition of the Aussie coastal element, it's simple to create a timeless style that best serves you and your family.
Hampton style colour scheme
If you're wondering what colour to paint your Hamptons style home, the answer is simple: white, white, and more white!
Light airy spaces are key to creating beachy coastal cottage vibes. Introducing accents of the blues, greys and greens of the ocean adds to the overall calming effect, while pops of sandy yellow, gold and even coral or teal can help add contrast and depth to your Hamptons home.
Beautiful white-washed walls will naturally complement bare wooden floors and antique wooden furnishings, helping to bring out the definition and beauty of a natural wood floor or table.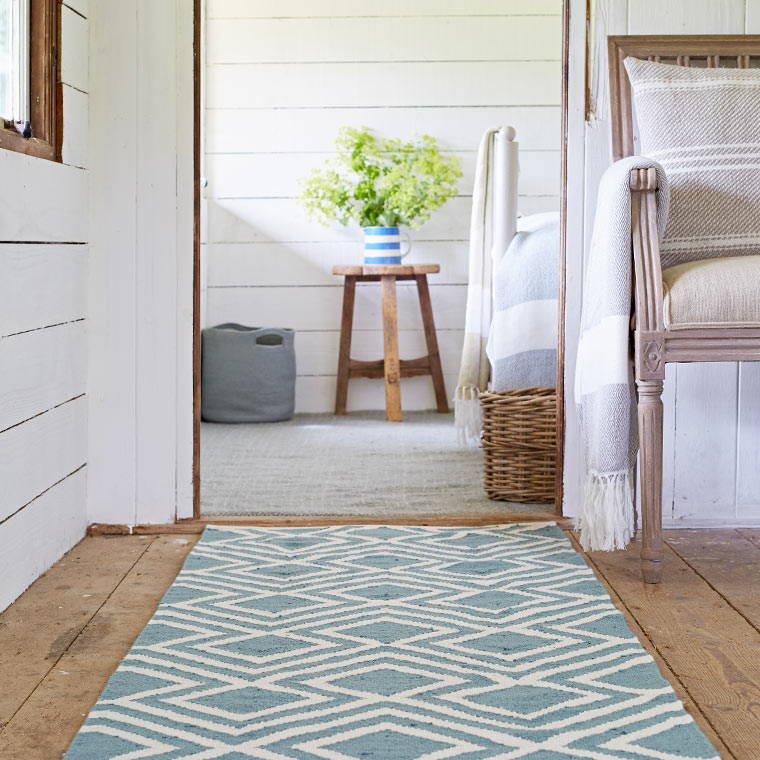 Hamptons style fixtures and fittings
Known the world over, the Hamptons style has become open to interpretation in different parts of the world, but there are some particular elements that really define the style.
A pitched gable roof, wide verandas, high ceilings and vast windows are all a plus, but if you're limited by space or budget, you can still make your current home work by bringing in key features of the Hamptons style. Try adding white weatherboarding, plantation shutters, wainscotting and mouldings to your existing home to create the Hamptons look, and even a simple coat of paint will go a long way towards a huge transformation.
Window seats are another common feature of the Hamptons home and can be added fairly easily. A large window seat is also a great place to store toys and accessories, helping to keep your rooms clear and uncluttered. Try adding some of our gorgeous Jaipur cushions in navy or dove grey to create a comfortable corner for curling up with a good book on a lazy afternoon.  
Classic luxury is the name of the game, and comfort is a key part of this, your Hamptons furnishings have to both look and feel good. Hamptons style furniture should be of high quality, as the Hamptons home doesn't change with new fads and fashions, but should be a curated space that tells a story of the people and families who live there. You don't have to rush out and buy all new furnishings all at once, but over time try adding better quality pieces of furniture that will really stand the tests of time. 
Hamptons style tables and chairs are commonly wicker or in raw or white wood, helping to keep things simple and classic. Incorporating antiques or pieces of furniture that have been passed through the generations gives character to light and airy spaces, creating balance and helping to keep things homely.
Sofas and armchairs should be oversized, inviting and super comfortable. Typically in neutral sand, cream or greys and blues for a little more depth. By sticking to a neutral palette on the walls and furnishing you can really lets the soft furnishings do the talking.
At Weaver Green, we have a beautiful range of Hamptons style cushions, throws and footstools in soft greys and blues. From our gorgeous pale blue Cornflower, to the washed out Ink and our bold, nautical Navy. In grey you'll find the light Kasbah Smoke, and beautiful greenish hue of Dove Grey. 
By layering classic prints and textiles, in traditional Hamptons colours, it's easy to create a luxurious comfortable retreat inside and outside your home.